Promix-SM309
Electromechanical lock for parcel automat (with pusher, door position and lock status sensors)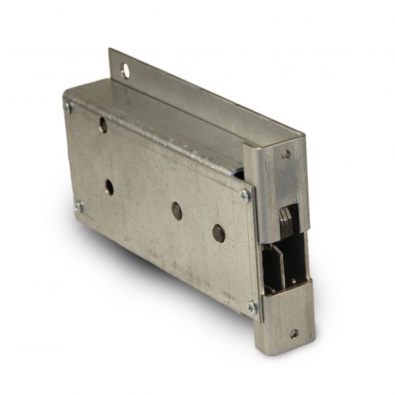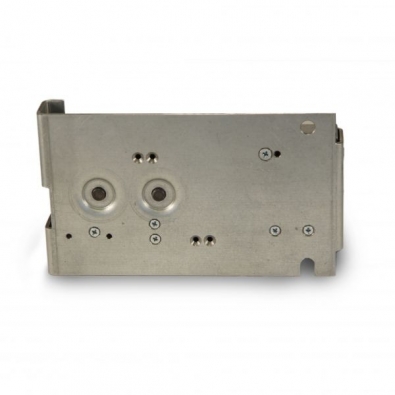 Designed to restrict access to luggage lockers (parcel automats) with the possibility of remote opening by applying supply voltage or mechanical emergency opening.
Description
The lock is installed on the inner surfaces of the cabinet perpendicular to the door. The counterpart (deadbolt) is installed on the door.
Principle of operation: when the supply voltage is applied, the lock unlocks the door and pushes it out with the built-in pusher. Thus, the open door is immediately visible and there is no need to install a handle on the door.
The design provides for the possibility of emergency manual opening.
The lock is equipped with door position and lock status sensors with "dry contacts".
The door position sensor detects two states: the door is closed and the door is open for more than 7 mm.
The lock status sensor indicates whether the deadbolt is unlocked or locked.
Designation of the lock model:
Promix-SM309.XY.Z, where:
| | |
| --- | --- |
| X - lock version: | 1 - normally closed; |
| Y - nominal supply voltage: | 0 - 12 V; |
| Z - availability of built-in sensors: | 3 - door position and lock status sensors. |
The modifications of locks available for order are shown in the table:
Lock model
Description
Promix-SM309.10.3

Normally closed (opens when supply voltage is applied),

supply voltage 12V, built-in sensors for door position and lock status
Features
Flat shape, different colors and small dimensions allow to install the lock on any cabinet;
No backlash of the closed door;
Built-in door position and lock status sensors;
Installation on metal and chipboard furniture;
Emergency manual opening;
Low power consumption;
Corrosion-resistant coating of lock parts;
No necessity for preventive maintenance and lubrication for the period of operation.
Technical characteristics
Deadbolt holding force, kg, at least 500
Initial ejection force of deadbolt, kg, minimum 1.5
DC supply voltage, V 10-14
Supply voltage pulse duration, 1-10 sec
Interval between pulses of supply voltage, 15 sec
Input current (at 12V), mA, maximum 300
Photos and videos
News
Official Distributor on Middle East market!!!
05.10.2021
We are delighted to announce a new partnership with one of the leading distributor of the security products on the Middle East market - MTP Distribution! Please feel free to contact.
+971.54.749.94.07
sales@mtpdistribution.com
Exclusive Distributor in Moldova!
03.09.2021
We are happy to introduce our Exclusive Distributor in Republic of Moldova
.
Industrial Communications SRL
+373 68643575
28.06.2021
We are delighted to announce that another distribution agreement was reached.
Please meet our Exclusive Distributor in Portugal -
ND SEGUR
!!!
All news