Our company has successfully passed the quality management system certification!
14.08.2020
The quality management system applied to design and development, production and delivery of electromechanical locks, control and management devices complies with the requirements of ISO 9001:2015.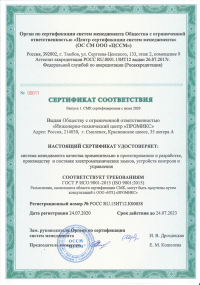 News
Official Distributor on Middle East market!!!
05.10.2021
We are delighted to announce a new partnership with one of the leading distributor of the security products on the Middle East market - MTP Distribution! Please feel free to contact.
+971.54.749.94.07
sales@mtpdistribution.com
Exclusive Distributor in Moldova!
03.09.2021
We are happy to introduce our Exclusive Distributor in Republic of Moldova
.
Industrial Communications SRL
+373 68643575
28.06.2021
We are delighted to announce that another distribution agreement was reached.
Please meet our Exclusive Distributor in Portugal -
ND SEGUR
!!!
All news