Our company has successfully passed the quality management system certification!
14.08.2020
The quality management system applied to design and development, production and delivery of electromechanical locks, control and management devices complies with the requirements of ISO 9001:2015.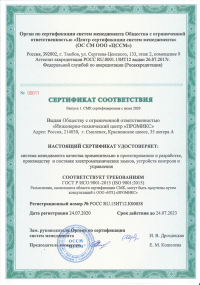 News
We are on "Wer Liefert Was"
03.03.2021
Good news for our German-speaking clients. You can also find us on the leading B2B market place "Wer Liefert Was" as qualified business partner!
12.02.2021
Great news for our European customers!!! The original electro-mechanical locks "Promix" you can now order directly from the warehouse of our Estonian distributor in Tallinn. Smart Security LLC, +372-66-11-774, info@smartsecurity.ee
Our company has succesfully registered the business account on EUROPAGES
27.01.2021
Dear friends, we are thrilled to announce that our company - Engineering and Production center "PROMIX" has succesfully registered the business account on the leading European e-commerce B2B platform EUROPAGES. Please feel free to visit!
All news