Our company has successfully passed the quality management system certification!
14.08.2020
The quality management system applied to design and development, production and delivery of electromechanical locks, control and management devices complies with the requirements of ISO 9001:2015.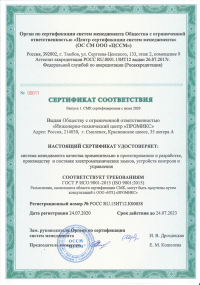 News
New Official Distributor in UK!!!
17.12.2021

We are thrilled to introduce our new Official Distributor in United Kingdom - Electric Locking Systems LTD!!!
Happy to be presented on the UK market and bring Promix products to british customers.

 https:/www.electriclock.net/ 

 +44.1202.94.1050

 sales@electriclock.co.uk
New patent has been obtained!
17.11.2021
Happy to announce that our company got approval of the new patent for electromechanical locking of the battery compartment of electric scooter.
All news