Promix-SM411
Mortise lever lock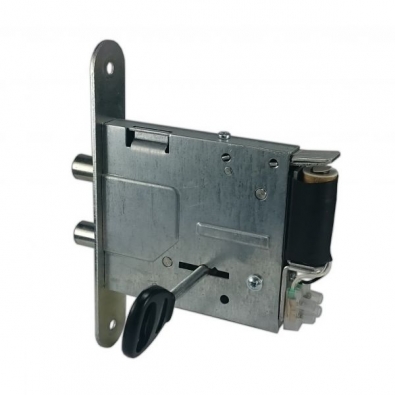 The lock in addition to the lever mechanism is equipped with an electrically controlled blocker. It is possible to open the lock with a key only when the blocker is unlocked.
Description
The lock is used by telecommunications companies for installation on equipment cabinets. Allows to equip all cabinets with locks with a single (same) key. This eliminates the problem of storing, identifying and issuing keys to staff.
The electrically controlled lock blocker is connected to the controller and unlocked by operator commands. Thus, having a key to the lock, you can open the lock only after the operator remotely unlocks the lock.
Technical characteristics
Power supply voltage: 5, 12, 24V (determined at the time of order making)
Input current (at 5V): 0.1А.
Blocker version: normally open, normally closed
Operating conditions: ambient temperature: -40 to +50 °C, relative humidity: no more than 95% at 35°C and lower temperatures without hoar frost formation.
Documentation
News
Exclusive Distributor in Moldova!
03.09.2021
We are happy to introduce our Exclusive Distributor in Republic of Moldova
.
Industrial Communications SRL
+373 68643575
28.06.2021
We are delighted to announce that another distribution agreement was reached.
Please meet our Exclusive Distributor in Portugal -
ND SEGUR
!!!
16.06.2021
We are thrilled to announce that our electromechanical locks Promix have been successfully tested in the largest European notified agent TSU in Slovakia.
All news